LLM Program
Living Light Ministries Youth Intervention Program  – The Wheel/Cycle of Misfortune Data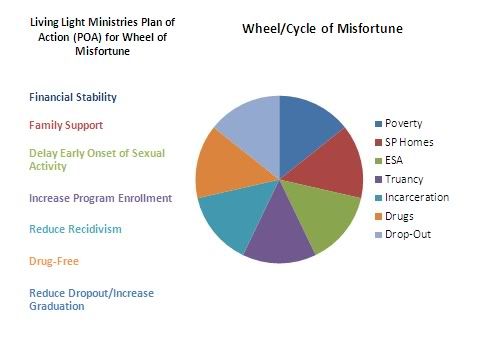 One factor greatly increases the odds of improving the unfortunate circumstances in the inner city, among minorities, the poor, and the less educated – suppression of instant gratification through a constructive medium integrated into the community from within the community. Because HIV is the number one killer of African Americans ages 13  – 24 and represents 13% of new infections based on data compiled up to 2004 – the multiplicity of problems is increased by two misfortunate items in our list: drug injection and risky sexual behaviors, as reported by the CDC.
(CDC, 2011 http://www.cdc.gov/hiv/topics/aa/)
By race/ethnicity, African Americans face the most severe burden of HIV in the United States (US). At the end of 2007, blacks accounted for almost half (46%) of people living with a diagnosis of HIV infection in the 37 states and 5 US dependent areas with long-term, confidential, name-based HIV reporting. In 2006, blacks accounted for nearly half (45%) of new infections in the 50 states and the District of Columbia (CDC  2011, http://www.cdc.gov/hiv/topics/aa/).
The effect of poverty on youth affected by HIV is evident by data collected by the CDC among entrants. The Job Corps, administered by the U.S. Department of Labor, is an occupational training program for socially and economically disadvantaged out-of-school youth from rural and urban areas in all 50 states and U.S. territories. Data sent to CDC from the Department of Labor provide a system for monitoring the HIV epidemic in this population, which may be at higher risk for HIV infection than are adolescents and young adults in the general population (CDC 2011 http://www.cdc.gov).
If there ever was any doubt that having a parent missing in the home did not affect the financial status, one only needs to assess the most recent census data to see that the current economic crisis is even harder on single-parent families, which creates a duality of complications for single-parents living below the poverty level.  Among the 1.5 million family groups with two unmarried parents, 16 percent of the fathers were unemployed in March of 2009, compared with 9 percent in March of 2007, while 8 percent of the mothers were unemployed in 2009, compared with 4 percent in 2007.  In 2009, 12 percent of the 1.7 million father-only family groups with children under 18 were maintained by an unemployed father, compared with 7 percent in 2007. Of the 9.9 million mother-only family groups, 10 percent were unemployed in 2009 compared with 6 percent in 2007. "These statistics show us that families are having a difficult time during this recession," said Rose Kreider, family demographer with the U.S. Census Bureau. "The data allow us to track annual changes in the structure and condition of the American family" ( U.S. Census 2011, http://www.census.gov/newsroom/releases/archives/families_households/cb10-08.html).
Living Light Ministries has through observation and research assessed data and made comparable assessment through surveys that indicate, many bad decisions are made when people young, and old are under the influence of drugs, alcohol or a combination of the two. According to the CDC, "Since the epidemic [AIDS] began, injection drug use has directly and indirectly accounted for more than one-third (36%) of AIDS cases in the United States. Racial and ethnic minority populations in the United States are most heavily affected by IDU-associated AIDS. In 2000, IDU-associated AIDS accounted for 26% of all AIDS cases among African American and 31% among Hispanic adults and adolescents, compared with 19% of all cases among white adults/adolescents. Non-injection drugs (such as "crack" cocaine) also contribute to the spread of the epidemic when users trade sex for drugs or money, or when they engage in risky sexual behaviors that they might not engage in when sober. One CDC study of more than 2,000 young adults in three inner-city neighborhoods found that crack smokers were three times more likely to be infected with HIV than non-smokers (CDC 2011,  http://www.cdc.gov/hiv/resources/factsheets/idu.htm)
Change must operate from within to ensure sustainability of vested interest
Living Light Ministries Plan of Action (POA) for Wheel of Misfortune
Poverty                                                     Financial Stability
Single-Parent Homes                      Family Support
Drugs                                                          Drug-Free Abuse and/or Use
Incarceration                                       Reduce Recidivism
Sex                                                                Delay Early Onset of Sexual Activity
Education                                                Reduce Dropout/Increase Graduation
Truancy                                                    Increase Program Enrollment
The needed changes require intense, long-term, sustainability and does not exclude the need for finances, but must not be reliant upon finances for sustainability. Every human volunteer, effective system of bartering, cost sharing, and community-based manpower must be incorporated in order to maximize positive results to turn our misfortune into fortune. Living Light Ministries is both prevention and intervention based. While preventing further misfortune we are compelled to work on behalf of those who are in need of intervention.
The New Face Of The Civil Rights Movement
We can ill-afford to squander the labor of love initiated by our forefathers post-reconstruction and extended into the 20th Century through the Civil Rights Movement. There has been a terrible sowing of negative behaviors in the wind by recent generations, which has produced a whirlwind of issues particularly, among minorities and the youth.
Living Light Ministries has a documented history working in direct program action through collaboration with the following private, non-profit and comunity-based organizations
OUR PARTNERS
The South Memphis Alliance/Community-based non-profit –Worked as HIV Coordinator & Director of Public Relations by supporting efforts to educate public on community improvement including block club organization, communicating public policies via city council and the development of community health intervention programs ( 1 year)
MPACT Memphis (Community-based professional organization) –Our representative at L. L. M. was a member of MPACT Memphis and built relationships and formed alliances with young professionals to function in an organized manner for community involvement connecting government and private entities with the non-profit community to increase efficacy (4 years) in the city of Memphis.

Habitat for Humanity/International non-profit – Provided support for building of homes in Memphis Shelby County area as a volunteer (2 years)
J. O. Y. Behind Bars/Community-based non-profit – Volunteer Director of Public Relations working to increase visibility, grant writing and general program organization (7 years)
The National Association For Prevention of Starvation/ International non-profit – Traveled to Zambia Africa through Living light Ministries as a Health Educator promoting HIV/AIDS awareness and initiated an abstinence-based program ( 2 months)
Emmanuel Episcopal Center/Community-based, religious,  non-profit – As a Consultant through Living Light Ministries, developed and implemented a program directed at drug awareness and HIV prevention to reduce recidivism, teen pregnancy, and school dropout (4 years)
Public, Private, Alternative, & Charter Schools
Memphis City Schools/Public School System in the state of Tennessee – Consultant through Living light Ministries for district-wide program development, implementation and assessment funded by the Centers for Disease Control/CDC ( 3 years)
Juvenile Corrections (Public & Private)
Corrections Corporation of America (STC & Tall Trees)/Private  correction-based company – Volunteer Consultant initiated Positive Brothers on a Mission a program aimed at reducing recidivism, drug use and abuse, early sexual  onset, school dropout, and general truancy ( 4 years)
Contracts & Collaboration
Living Light Ministries provides support for organizations (public, private, and government), churches, and communities through on site program implementation. We are available for consultation by appointment only where we provide in-depth information on our specific programs that are oftentimes developed and tailored specifically to meet the need of the organization/vendor. We are currently seeking to brand our program initiatives and provide packages to meet the needs of community-based programs aimed at youth intervention around the country.
We are also compiling data from years of observation and surveys, collected under a privately sponsored longitudinal study and will make them available for reference with written permission.
28 Replies to "LLM Program "
Leave a Comment